Burner- Boil Kettle
The burner for the boil kettle is an old Camp Chef I used to use to fire up my keg brewery. The base of the burner had slowly rusted away so I decided to remove the burner and make a new enclosure for it that would fit perfectly in the new brewery.
Using four pieces of stainless steel 16 gauge sheets, I shaped the following contraption: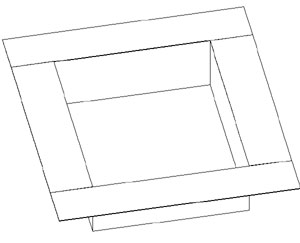 The sheets are dimension:2 ea. 19.5"x7" and 2 ea. 19.5"x17"
The burner mount fits over the hole where the boil kettle goes (2nd tier) and was originally riveted in place. Later, I took out the rivets so I could remove the burner and clean it. This also makes it possible to replace the burner with a similar burner mount for natural gas in the future.
Left: Cad drawing of burner mount.
This design had problems and in order to retard flame back, I made a bottom for it. In order to allow the heat to escape evenly around the boil kettle, I made a couple of spacers made of stainless sheet metal which I bent down the middle with a break. These pieces were welded to the burner frame to provide about a 1/4" space from the frame to the bottom of the boil kettle.
---
Go Back to Burner- Mash Tun

|

Go on to Problems and Revisions