The Parkway
Picture, Pub & Pizza
By Thor
(6/97)
Several years ago when I was but a small (or at least a smaller) beer enthusiast, I wandered up to Portland. Once there, I discovered a great pub concept, The Mission Street theater. Converted from an old movie theater, you could buy pizza and pitchers of beers and watch movies at the same time. Just like your living room only more social and you don't have to vacuum the rug later.
After years of waiting, it finally got a little easier to have the movie/brew experience. The Parkway Pub Theater is located in Oakland around Lake Merritt on the south side. There are two movie screens in the theater. One usually shows a main attraction while the other shows something for special interests (like artsy stuff). Ticket prices to see the movie are $3 bucks. The show times are usually 6 and 9 p.m. on the weekdays. On weekends, they usually have a matinee when they allow the under-21 crowd to enter. Otherwise no one under 21 is allowed in at night so you don't have some kid acting his age during the movie. Is everybody listening?
Instead of what you would expect in typical movie theaters, the seating is not crammed in like transatlantic coach seating. Instead, the theater has tables, chairs and couches on two separate levels so you can relax. There is no problem with leg room since the stuff isn't bolted down to the floor. Its very much like a living room only a lot larger.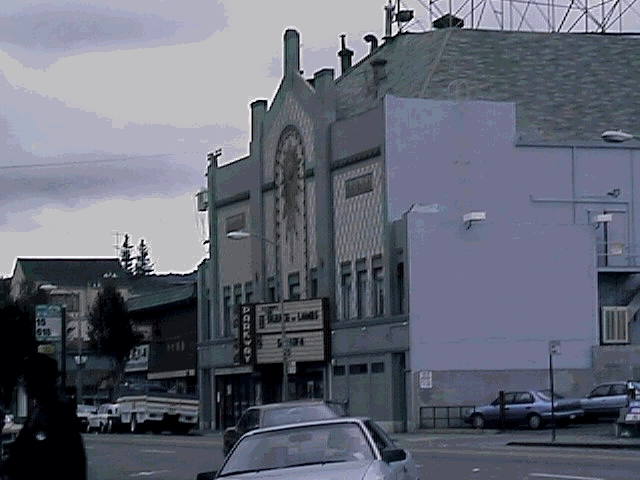 The movies change every couple of days and the theater tries to get a listing out so you can plan by the month. As of writing this, they still haven't gotten a web page but I'm thinking of doing one myself for my friends so they will not have to call and ask me every month. The movie range from the eclectic to the recent releases. If you don't like their movie listings, you can write them a note and see what happens. I've been lucky several times with this method. Some examples of previous films are: Dr. Strangelove, Face Off, Silence of the Lambs, The Road Warrior, and Dirty Harry.
Before most movies, they usually show an old Bugs Bunny or Daffy Duck Cartoon. Vintage stuff mind you like the Barber of Seville and stuff like that.
Let's talk Beer and Food. As of September 30 when I was there last, they had the following: Sierra Nevada Pale Ale, Sierra Nevada Brown, Red Tail Ale, Hubsch Pilzen, Full Sale Amber. Pitchers are $8. I have first hand knowledge what the pints cost because it can't quench my thirst. Food is comprised of Pizzas, Italian stuff like Strombolli, and chicken wings (see menu at the end). They also occasionally have specials like grilled chicken sandwiches. Of course they also have the movie fare as well such as candy and popcorn.
For Theater listings, look for a flyer near you or call them direct at 814-2400. If you're on the web, keep an eye on my web page at www.dnai.com/~thor/index.htm for more information.
Directions: Drive around Lake Shore until you get to E. 18th street and take a right. Continue on for a couple of lights until you get to Park and take a left. The theater is on you right (the picture show the view from the light at E 18th and Park. So you know what to look for).
And lastly, I don't have any affiliation with the Parkway nor do I profit if anybody goes to it. I'm just writing this to share in some of the fun that I found in my own neighborhood.
See ya at the movies